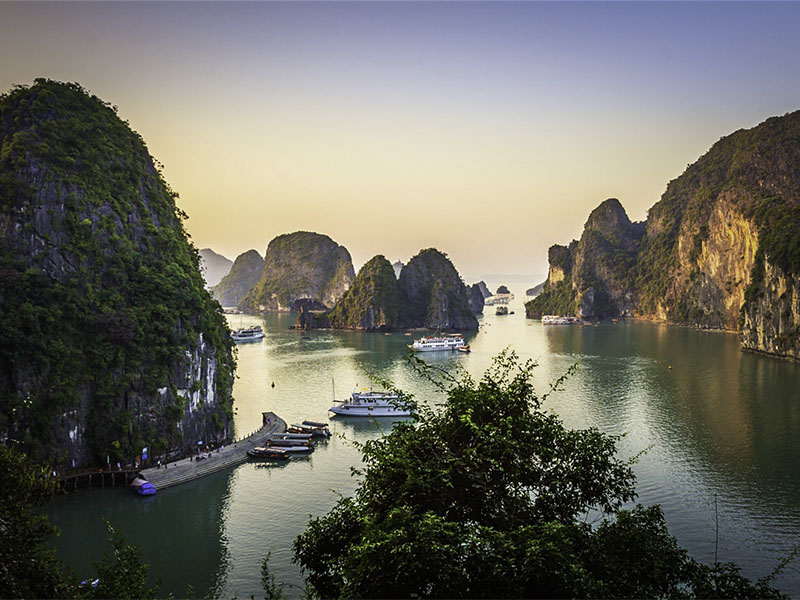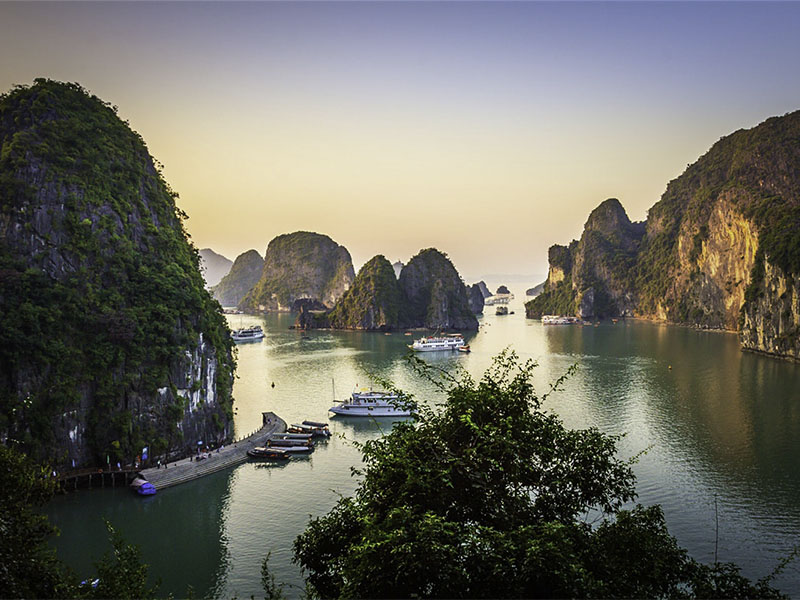 A land of staggering natural beauty and cultural complexities, of dynamic megacities and hill-tribe villages, Vietnam is both exotic and compelling.
Sensory Overload
Unforgettable experiences are everywhere in Vietnam. There's the sublime: gazing over a surreal seascape of limestone islands from the deck of a traditional junk in Halong Bay. The ridiculous: taking 10 minutes just to cross the street through a tsunami of motorbikes in Hanoi. The inspirational: exploring the world's most spectacular cave systems in Phong Nha-Ke Bang National Park. The comical: watching a moped loaded with honking pigs weave a wobbly route along a country lane. And the contemplative: witnessing a solitary grave in a cemetery of thousands of war victims.
History & Culture
Vietnamese culture is complex, diverse and represents something of a history lesson. The nation's labyrinthine, teeming trading quarters are rich in indigenous crafts and reflect centuries-old mercantile influences. Ancient temples display distinctly Chinese influences in the north and Hindu origins in the south. Meanwhile the broad, tree-lined boulevards and grand state buildings that grace the capital date from the French colonial period. And it's impossible to forget Vietnam's pivotal position close to the epicentre of East Asian power and prosperity, for its cities' skylines are defined by clusters of glass-and-steel corporate HQs and sleek luxury hotels.
A Culinary Superpower
Thailand may contest the top spot, but in Southeast Asia nothing really comes close: Vietnamese food is that good. Incredibly subtle in its flavours and outstanding in its diversity, Vietnamese cooking is a fascinating draw for travellers – myriad street-food tours and cooking schools are testament to this. Geography plays a crucial role, with Chinese flavours influencing the soups of the north, spices sparking up southern cuisine, and herbs and complex techniques typifying the central coastline, rightly renowned as Vietnam's epicurean hot spot. And up and down the country you can mingle with villagers, sample local dishes and sip rice wine in Vietnam's many regional markets.
Thrills & Chills
If you have the bills, Vietnam has the thrills and chills. Some require a little physical effort, such as motorbiking switchback after switchback up the jaw-dropping Hai Van Pass in central Vietnam. Others require even more sweat: kitesurfing the tropical oceanic waters off Mui Ne or hiking the evergreen hills around Bac Ha or Sapa. And when you're done with all that adrenaline stuff, there's plenty of horizontal 'me' time to relish. Vietnam has outstanding spas – from marble temples of treatments to simple family-run massage salons with backpacker-friendly rates.
There's a magic about this charming yet confounding kingdom that casts a spell on visitors. In Cambodia, ancient and modern worlds collide to create an authentic adventure.
An Empire of Temples
Contemporary Cambodia is the successor state to the mighty Khmer empire, which, during the Angkorian period, ruled much of what is now Laos, Thailand and Vietnam. The remains of this empire can be seen at the fabled temples of Angkor, monuments unrivalled in scale and grandeur in Southeast Asia. The traveller's first glimpse of Angkor Wat, the ultimate expression of Khmer genius, is sublime and is matched by only a few select spots on earth, such as Machu Picchu or Petra.
The Urban Scene
Just as Angkor is more than its wat, so too is Cambodia more than its temples, and its urban areas can surprise with their sophistication. Chaotic yet charismatic capital Phnom Penh is a revitalised city earning plaudits for its sumptuous riverside setting, cultural renaissance, and world-class wining-and-dining scene. Second city Siem Reap, with cosmopolitan cafes and a diverse nightlife, is as much a destination as the nearby iconic temples. And up-and-coming Battambang, reminiscent of Siem Reap before the advent of mass tourism, charms with graceful French architecture and a thriving contemporary art scene.
Upcountry Adventures
Experience the rhythm of rural life and landscapes of dazzling rice paddies and swaying sugar palms in Cambodia's countryside. The South Coast is fringed by tropical islands dotted with the occasional fishing village. Inland lie the Cardamom Mountains, part of a vast tropical wilderness providing a home to elusive wildlife and a gateway to emerging ecotourism adventures. The mighty Mekong River cuts through the country and hosts some of the region's last remaining freshwater dolphins. The northeast is a world unto itself, its wild and mountainous landscapes home to Cambodia's ethnic minorities and an abundance of natural attractions and wildlife.
The Cambodian Spirit
Despite having the eighth wonder of the world in its backyard, Cambodia's real treasure is its people. The Khmers have been to hell and back, struggling through years of bloodshed, poverty and political instability. Thanks to an unbreakable spirit and infectious optimism, they have prevailed with their smiles intact. No visitor comes away without a measure of admiration and affection for the inhabitants of this enigmatic kingdom.
iTravel offers a whole set of experiences across Vietnam & Cambodia. Here are just some them…..
Wildlife & Photography Experiences
Gastronomy & Shopping Experiences
Adventure Experiences (Trekking, Rafting etc)
Romantic, Leisure & Family Experiences
Heritage & Religious Experiences
To plan your next iTravel Experience, Click Here